There's something about a fine piece of steel. Forged steel, molded and beaten into shape by flesh and blood and sweat, a man's will forced into metal. One might consider that a piece of the riddle of steel.
In a different time a man without a knife was a man without a life, for nothing could be carved from this world without a good blade. The tool that stood betwixt a bare knuckled brute and the wilderness, essential to man's survival. All the more reason to own more than one I say.
Over the years there have been a couple different knives profiled here. Three in fact, and I use each of them regularly. Still, I'm a fan of good steel and so the eye never ceases searching for for it, another piece of the riddle of steel.
Photo courtesy of Robert Paul Photography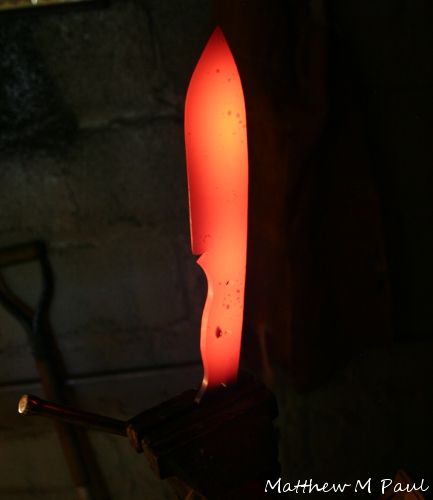 Enter Matthew Paul of
MP Knives
. Matt's a regular of the
BCUSA forums
, an amicable guy with a talent to form steel to his will. His talent doesn't end at knives either, he's a regular blacksmith of the old world variety, making everything from axes and knives, chisels, tools, grills, camp cooking accoutrements and other steel and iron utensils. Matt's a custom maker, willing to take on custom projects and not limiting himself or his customers to a few types of preselected models.
I've been following Matt's work, he's regularly posting updates on his efforts within his
subforum
, pictures of his latest creations and completions of orders. I'd become particularly fond of what he calls the MP Bowie, I really liked the design, all of it, from knife style, blade geometry, handle, it all came together to form a very nice knife that just screams functional. While not a bowie in the classical sense it is very much an iconic camp bowie to my mind.
I reached out to Matt about the design and placing an order. Communications traded and conclusions reached I was placed on his order list. Matt's a hard worker, it didn't take long at all for my order to come up, less than a month. We settled up and he shipped the knife promptly.
1095 high carbon steel, spalted maple scales, a very curvy hand filling handle, convex edge. What's not to like?
I'm what you might call a user, I don't own safe queens or knives I don't use and when I use them, I really use them. For three seasons a year I carry a pair of knives, a camp working knife and a pocket or smallish fixed blade for finer work, cooking, skinning and so on. In winter I'll add an axe and or a saw to this mix making the full Nessmuk trio if you will. I just usually don't need the chopping power of an axe for the other three seasons. Even during the wet seasons I've found a good camp knife is usually all I need for wood and fire prep.
I'm also not afraid to baton with a knife, another can of worms I guess, I can't say I understand all the controversy surrounding this skill, some do it and some don't. Seems to me most of the flak tossed around about it comes from those that don't. The bottom line for me is control under less than ideal conditions, when you place a knife on a round for splitting the cutting edge is never swung, rather it is driven through the medium. No swinging involved thus it's safer in the dark or low light and adverse conditions. There are a number of other reasons a man might want to baton over regular chopping with an axe and enumerating them now is beyond the scope of this article. Suffice it to say I can use either tool to get the job done, and depending upon circumstances there are reasons to use one or the other of them. Having a knife that you can trust and is capable of the task is paramount. In this case the MP Bowie excels.
I'm very happy with this knife so far, the handle is exceptionally comfortable, the rear of it can be held to facilitate chopping and it worked very well in that capacity. The swell in the handle fills the hand that feels very good, control was excellent.
Spalted Maple is the handle material and it's just flat gorgeous. The blade is near ideal length and thickness for my preferences and it balances nice in the hand. Matt did an excellent job on this knife, I'm absolutely ecstatic about how it came out and how pleasant it is to use. An impromptu campfire and some chaga tea was its christening.
I expect this knife will get some heavy use, I'll be updating my impressions and thoughts on the knife as time passes. So far it is high quality, quite affordable, with fast turn around from point of order, exceptionally designed and very well executed. This will not be my last knife from MP Knives.